About the author,
Mr. Patrick C. Byrne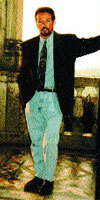 Mr. Byrne studied voice with Professor Thompson at U.C.K.C, as well as Madame Lenora Lamar-Moss, and Linda Rossi, a protégée of Richard Tucker.
His interest in opera has led to the development of a record label, OMBRA.
He is a graduate of Rockhurst in Kansas city.
Recently, Mr. Byrne has completed a co-authorship of a book on Maria Callas, with celebrity author Taylor Pero.

Carmen
Music by Georges Bizet
Libretto by Henri Meilhac and Ludovic Halévy

Performed in French with electronic English translations above the stage.
The Lyric Opera of Kansas City; 2005; September 17, 19, 21, 23 and 25

Conductor:
Director:
Set designer:
Lighting designer:
[n/a]
Amy Hutchison


Eduardo Sicango




Nicholas Cavallaro

Carmen:
Don José:
Escamillo:
Micaëla:
Zuniga:
Remendado:
Frasquita:
Moralès:
Mercédès:
Dancaïre:

Elena Bocharova
David Pomeroy
Michael Chioldi
Heather Parker
Derrick Parker
Daniel Erbe
Diane Kalinowski
David Lara
Joo-Hee Park
Jonathan Thomas
---
Carmen has been dogged for decades by the exaggerated stories that it was a colossal failure when premiered at the Opera Comique in 1875. Nothing could be further from the truth. Nearly 40 performances were given that season and it remained in the line up for the following year. What followed after that need not be documented.
The Lyric's current mounting of this warhorse proves that the music can carry nearly any performance. That is not to say that the audience wasn't entertained. There were many memorable moments that worked very well. Several of the cast members made very strong vocal and emotional points. As a whole, the feeling seemed too much on the surface. Carmen, Elena Bocharova, seemed bemused through most of it. Her voice is a very rich, smooth, and mid-size mezzo. The chest voice seemed to be produced differently than the rest, with a decided "bite" or edge, which worked very well in certain hard phrases. I don't criticize her approach to the role, for there are many viable approaches, but I found it wanting in fire and that fatalistic tone which I think makes Carmen so fascinating. A primal sexiness is a must, for Jose has to find a strong reason for his foolish choices in love. I got none of that from my perspective.
David Pomeroy, as Don José, was magnetic. His dark good looks and impressive acting skills made for a tragic hero. The voice is a beautiful one, with a seamless sound. There is plenty of power when the moment arrives to use that power, and a decided bravura in its use. The final confrontation in Seville belonged entirely to the tenor, who gave full vent to the desperation and rage of the hapless soldier. On the other hand, his use of soft singing was remarkable, displaying amazing tenderness in the duet with Micaëla, ending in a beautifully floated high phrase.
Heather Parker's Micaëla was dramatically realized, but uneven in the vocal line. When the voice rose above the staff there was a strong tendency to spread and lose focus. Climactic moments were choppy and removed from the vocal line, breaking the legato in an attempt to negotiate the high notes.
Michael Chioldi was brash and aggressive as the Escamillo. He swaggered and swirled in a nearly silent movie fashion, something not really called for, as the music Bizet has given him to sing displays the character. Unfortunately a good deal of the character's music depends on a strong middle voice, something this baritone lacks. The voice was dry, with very little resonance. Only at the end of his scene did he attempt to push the voice open and then he held on to the note far beyond the normal count.
Of the gypsy friends surrounding Carmen, Diane Kalinowski, as Frasquita, stood out. She possesses an enormous voice of fine quality, and frequently dominated the ensembles. A good sized figure did not hamper her intention to convey her seductive designs on several of the soldiers.
I do not recall hearing such slow tempos in a Carmen production. The tavern scene and the dance in particular suffered from the sluggish pacing. These were no fiery gypsies, but sounded more like three women who had had too much manzanilla to drink.
Eduardo Sicango's set made clever use of a series of simple layered stone prosceniums and a canted stage, enhanced by Nicholas Cavallaro's effective lighting. The costumes were probably not designed specifically for the principals, as evidenced by the very unsexy costumes Carmen was forced to wear. There are much better ways to disguise a too full figure other than wrapping a fringed shawl around a full waist. The soldier's costumes were appropriate, with those of the rest of the cast displaying no particular artistic flair. The entire effect was entirely too monochromatic.
The orchestra seemed to lack incisiveness and I found the crisp, direct attack I am used to hearing in this music sorely lacking.
Patrick C. Byrne
---
More information: http://www.kcopera.org/
---
Deze recensie werd geschreven door Patrick C. Byrne, een Amerikaanse operaliefhebber, en ons toegezonden op 25 september 2005, gebaseerd op de voorstelling van 21 september 2005.
Meer informatie over de recensent:
Callas Corner - Opera Singer Maria Callas, Callas CD's & Merchandise
http://members.aol.com/OmbraRecds/
---